32 plugins para Twitter de gran utilidad para WordPress
O Twitter é uma mania já faz algum tempo. O Twitter não é só um valiosa ferramenta para interagir com seus amigos ou comunidade, mas também é uma grande ferramenta mídia para marketing ou serviços.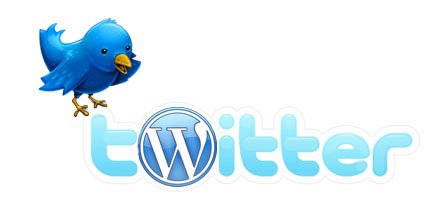 Se você tem um site ou blog que funciona com WordPress, então é mais fácil de espalhar o conteúdo do site através do Twitter, porque existem muitos plugins Twitter para WordPress. Nosso amigo Faisal Raj do site GEEK Sucks, fez uma lista com os 32 Twitter Plugins mais úteis para os usuários do WordPress, espero que estas seja uma grande ajuda wordpress :).
1. Twitter for WordPress: Twitter para o seu WordPress mostra as últimas tweets no seu blog WordPress. O plugin é facilmente adaptável e apenas usa os recursos WordPress, não há arquivos extras necessários.
2. WordPress Twitter Widget: Usando o Javascript, adiciona uma barra lateral widget para exibir atualizações de Twitter. Não é sofisticado e só há 3 opções de configuração: nome da conta do Twitter, título legal e número de atualizações que você deseja mostrar.
3. Twire: Este plugin irá combinar o Twitter e BuddyPress para obter um Twire (Buddypress ter).
4. WP Twitter Pitch: WP-TwitterPitch é toda sobre a obtenção do campo entregue a você no formulário que você deseja obtê-la entregue – em outras palavras, em formato Twitter.
5. Twitter Blaster: Blaster Twitter é um plugin que permitirá que seus visitantes envien mensagens para a sua conta do Twitter. Uma vez instalado, os usuários podem atualizar seu Twitter. Twitter Blaster divulgaremos a apresentação usuários como um post pendente. Thrn você pode aprová-las como uma atualização de Twitter e / ou função. Você também pode apagar qualquer mensagem spam.
6. Twitter style links: Se você escrever algo como "@ grayme, how are you?" Este plugin irá procurar @ url grayme na lista de comentários do post atual e irá converter o seu nome para um link.
7. Twitter Feed: As funções de controle, como se conectar a uma conta no Twitter e armazenar informações sobre os tweets / blogs, pode ser acessado através do "Twitter Control" no painel de administração WordPress. Quaisquer alterações no tweets conta atualmente ativo Twitter pode ser atualizado imediatamente clicando no botão "Atualizar blogs" botão.
8 Twitter Updater: Este plugin permite atulizar automaticamente o seu estado no Twitter.com com o post mais recente do seu blog. Existem algumas opções de como o display vai olhar quando ele atualiza.
9. Post to Twitter: Post a Twitter é um plugin que cria uma integração completa entre o seu WordPress blog e sua conta Twitter. Post to Twitter é um plugin WordPress muito simples de enviar a sua mensagem à sua conta do Twitter. Basta instalar o plugin, configure sua conta do Twitter, defina o prefixo tweet personalizado e estrela para postar.
10. Tweet Suite: TweetSuite, Twitter WordPress plugin que inclui a integração com TweetBacks, ReTweet-Este botões para cada TweetBack, digg-like-Piu neste botão, tweeting automática de novos postos, mais widget-tweeted, recém-widget tweeted, my – última Widget tweets, adotou-meu-widget tweets características etc.
11. Twitter Links: Este plugin irá converter nomes de usuários válidos Twitter mencionado em comentários em um link para sua página de perfil Twitter.
12. Top Twitter Links: Widget que exibe links atualmente populares que foram tweeted.
13.Thread Twitter: Thread Twitter buscar seus tweets para exibi-los no estilo de discussão.
14. WP Widget: Twitter: Twitter Widget exibe seus tweets em sua barra lateral. Há muitas opções para tuen on / off que você deseja exibir.
15. CommentTweets: Este plugin envia um @ Resposta ao leitor de blog com link para a mensagem relevante, através de seu blog Twitter com a sua conta própria ou uma conta criada para o efeito.
16. Twitter It: Com este plugin um usuário tem a capacidade de envia um artigo do seu site para o twitter. Então, basta colocar o a template tag "Twitter it!" ao lado de seu artigo, e cada usuário que lê seu artigo e quer enviar para twitter só tem de clicar no "Twitter it!" Link.
17. Twitter ReTweet: Ao utilizar o plugin você pode usar a saída de um link, estilizados básicos em qualquer lugar em um post ou página do WordPress, que, quando clicado, seria permitir que os visitantes de forma rápida e fácil ReTweet o cargo atual.
18. Twitter Digest: Esta extensão utiliza o pseudo-cron instalação disponível no WordPress para publicar um post diário de tweets a partir do dia anterior. É baseado no Twitter Alex King's Ferramentas.
19. unfake.it URL shortener for Twitter Tools: URL Shortener unfake.it Plugin para Twitter Tools recebe uma URL como parâmetro de entrada, diminui-lo usando API unfake.it e envia de volta o URL abreviado como seqüência de retorno de saída.
20. Twitter Poster: O Poster Twitter permite que os editores wordpress automaticamente para postar seus novos lugares para a sua conta Twitter. Vai levar o título de um post novo e vai apresentá-lo à conta no Twitter especificado nas opções. Ele também irá adicionar o link para o cargo, permitindo que seus seguidores do Twitter para acessar os detalhes do post.
21. Add Twitter RSS: É um simples plugin que adiciona o Twitter RSS link para o cabeçalho do seu blog. Ele permite a seus leitores encontrar facilmente o feed do seu Twitter.
22. Twitter Remote Widget: Um simples plugin para mostrar o Twitter Widget em seu blog.
23. Fresh From FriendFeed and Twitter: Mantém seu blog sempre frescos regularmente adicionando seu conteúdo mais recente e maior do FriendFeed ou Twitter. Não é necessários senhas externas!
24. Twitter Tag: Acrescenta um Twitter @ username em seu blog e criar automaticamente um link para a página do Twitter usuários e enviar um tweet dizendo-lhes que eles foram marcados em um de seus posts. Ele usa Tiny URL para incluir uma URL para o post no blog entry.
25. Twitter User: Twitter usuário é um simples plugin que adiciona um campo adicional para os perfis dos autores em que se pode adicionar seu nome de usuário do twitter.
26. Twitter Friends Widget: Twitter Friends exibe seus amigos Twitter/seguidores na sua barra lateral do mesmo modo que aparecem na sua página do Twitter.
27. Advanced Twitter Widget: mais simples, melhor, mais eficaz. Você pode escolher para postar as atualizações do seu Twitter/ou qualquer outra conta …. post resultados de pesquisa … .. medida é simples e dinâmica 2 em 1 .. esperamos poder atualizar com 3 ou quem sabe mais o quê.
28. Multiple Twitter Widgets: Permite exibir a vários widgets twitter.
29. Twitter News Feed: O plugin tem um caso de uso específico, que é a importação de usuários definidos tweets Twitter contendo hashtags específicas em WordPress.
30. TwitterCounter: permite integrar com o site TwitterCounter.com com o seu blog para mostrar quantas pessoas seguem o seu Twitter.
31. TweetMeme: O botão TweetMeme permite facilmente fazer retweeted em qualquer post do seu blog. O botão também fornece uma contagem atual de quantas vezes o seu post foi retweeted no twitter.
32. Add Twitter Link to Comments: Este é um plugin que adiciona um link Twitter para comentários se o autor do comentário usa um e-mail ligado a uma conta no Twitter.
Bonus ***
33. Twitter Tolls: Twitter Tools é um plugin que cria uma integração completa entre o seu WordPress blog e sua conta Twitter.
TweetMeme e Twitter Tolls são utilizados aqui no Ajuda WordPress.