Free Templates WordPress – Temas para WordPress
Se você usa o WordPress, certamente que já sentiu dificuldades ao tentar encontrar o template perfeito para o seu site, por isso hoje apresentamos o Free Templates WordPress, um site onde você poderá encontrar dezenas de templates gratuitos para WordPress.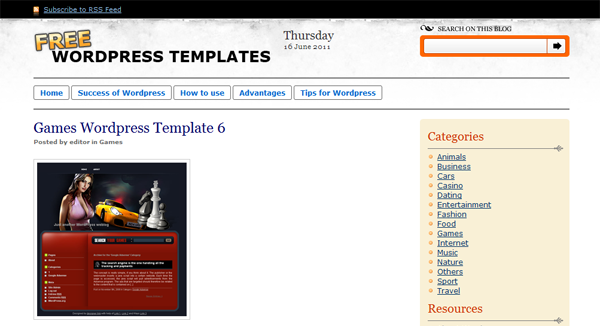 Todos os temas estão organizados por categorias, ou seja, se procura um tema para um site de desporto basta ir a categoria "Sport". Neste momento podemos encontrar temas nas seguintes categorias: Animais, Negócios, Carros, Casino, Encontros, Entretenimento, Comida, Jogos, Internet, Música, Desporto, Viagens e Moda.
Segundo o responsável pelo site, o objetivo é chegar ao fim do ano com mais de 500 temas disponíveis para download por isso é provável que com o tempo sejam adicionadas novas categorias.
O download dos temas pode ser feito em segundos e não é necessário fazer um registo no site. Cada tema tem a opção de live demo, ou seja, você pode ver como é que o tema funciona, poupando-lhe trabalho porque assim só faz o download se gostar do seu aspeto.
É importante também destacar alguns artigos que estão disponíveis no site como o Tips for WordPress (dicas para wordpress), Sucess of WordPress (o sucesso do wordpress) e ainda a página sobre as Advantages of WordPress (vantagens do wordpress).
No geral o site está muito muito bom, mas falta melhorar o design e a organização dos posts. A adição de uma paginação numerada e de uma opção que permita votar em cada tema também seria uma boa ideia.
Visite já o Free Templates WordPress!
Agora que já conhece o site, está na altura de explora-lo e usar os temas que existem por lá. O endereço é www.wpfreetemplates.net
Bons downloads!
Via wptotal.com